Canadian Firefighter 2023 Cover Photo Contest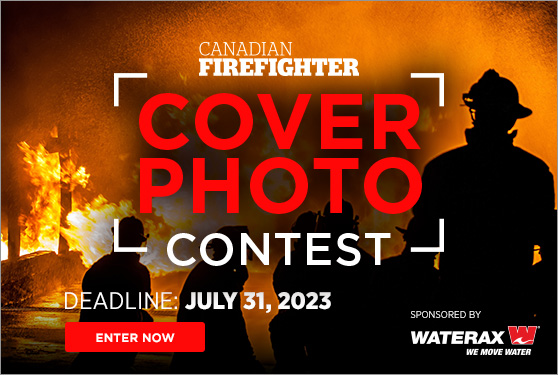 Take us to your fire department and show us the ins and outs of your calls, your time in the fire hall, your training, and more. Your photo could be featured on the cover of Canadian Firefighter's October 2023 issue.
Looking for a little inspiration? Here are some possible photo ideas to get you started:
Wildfires
Training exercises
Fire service members
Fire service equipment
Fire hall life
Team events
Community safety initiatives
Deadline to submit: July 31, 2023
Judging period: August 1 – 11, 2023
See below for guidelines and tips to enter:
Keep photos below 20MB as email attachments. Please use file hosting services such as Dropbox or WeTransfer for larger images;
Make sure to include the name of the photographer, so we can give credit where it's due;
Give us the details! The more the better. We want to know the location, as well as when the photo was taken. Any additional information about the photo, such as the call you were on, the training you were completing, the event you were hosting, etc., will help us put the photo into context;
The contest is designed to highlight this year in Canadian fire fighting, so please limit your submissions to photos taken in 2023 (January 1 – July 31, 2023) on Canadian soil;
Only enter photos that you own, or have the express permission of the photographer to use;
The submitter must be willing to grant Canadian Firefighter non-exclusive rights to reproduce the photos in print and online; and
We ask individuals to limit their submissions to a maximum of three photos.
The Canadian Firefighter team will select the winning pictures based on the following criteria: composition, originality and intent, quality, lighting and colour.
Content alteration of digital files is not acceptable; cropping of photos is permitted, tonal or colour corrections are acceptable, including black and white conversion. Winning entrants must be able to provide a high-resolution version of each photo that they submit (uncompressed TIFF or maximum quality JPEG, greyscale or colour (RGB)). Digital files should be at least 1000 pixels tall by 1250 pixels wide (or 8" x 10") at 300 dpi.
Please direct any questions to Canadian Firefighter's editor, Brittani Schroeder.
With the spotlight on firefighters and first responders, Canadian Firefighter wants to share a different perspective: yours. For the duration of the season, we want to see your scene views. What does being a Canadian Firefighter look like to you?
Complete the form below to enter contest
Contest is now closed. Stay tuned for the 2023 winner in the October edition!