Recipe Rescue: April 2011
Patrick Mathieu
Features
Health and Wellness
Nutrition
video
CURRENT ISSUE

Recipe Rescue
In his inaugural column, firefighter/chef Patrick Mathieu shares tips for nutritious and delicious fire-hall food.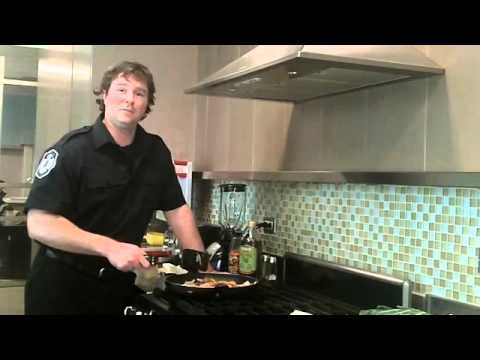 When I started at Waterloo Fire Rescue 11 years ago, I vividly remember a wise veteran explaining to me during lunch break (which, to him, was the most important part of the day!) that you had one responsibility of two possible tasks: you cooked or you cleaned. In my mind, the decision was simple. Growing up in a French-Canadian home where both parents loved to be in the kitchen, the natural choice was to cook. But I was just a 21-year-old rookie at the time; my only and greatest cooking skill was watching Mom and Dad cook and then eating whatever they had made. Fire hall meals are an iconic part of our culture; what could I offer 11 famished firefighters? In the same instant, the horrible mental picture of doing dishes for all these people came to me and my fire-hall cooking career began.
Everything started out easily enough; I was simply helping the veterans prepare and cook the usual fire-house favourites: Everything-but-the-kitchen-sink chili, burgers with fries, and, especially in Waterloo, farmer's sausage, mashed potatoes and creamed corn. Don't get me wrong – there was absolutely nothing wrong with these meals and they are still enjoyed today, but, while helping to prepare these meals I learned a few things. First, I had a real passion for cooking! It didn't faze me one bit to prepare different meals for 11 people every day and it didn't feel like work – I really enjoyed it! Secondly, I love trying to create new dishes and testing new recipes. Lastly, as it turned out, I tapped into an undiscovered talent that everyone soon began to really appreciate. I even entered a few cooking competitions and won! I guess all those nights spent watching Mom and Dad had taught me more than I thought.
Like most issues in the fire service, change does not come easily. As my culinary skills grew with travelling the world and taking cooking lessons, I was ready to spice up our menus by using different types of ingredients and trying new types of cuisine. Not everyone was totally on board at first, but with each new creation, walls came down, and even with the pickiest eaters, palates and taste buds were opened! Three meals a week, three different experiences, and soon lunch break was all about the food!
During the time of all this cooking (and of course the fun of eating!) our platoon was evolving. Dinner time at home brings family members closer, and the same was happening with our fire hall family. Teamwork to help build the meal, followed by everyone sitting together eating, laughing and enjoying a break in the day, really made for strong bonds within our platoon. Seeing the smiles that a great meal brought to everyone's face made cooking well worth the time and effort involved.
I've learned over countless fire hall lunches and dinners that if you stick to three simple criteria for a meal, everyone is going to be happy:
The food has to be delicious. I used to think firefighters would eat just about anything, regardless of taste. However, if the meal tastes especially good, they will appreciate it much more.
The meal has to be satisfying and healthy. We have a demanding job and we need the proper fuel to function optimally. Also, we are much more educated now about the benefits of proper eating.
The food has to be inexpensive. We all know firefighters are, let's say, thrifty. Try to keep meals between $5 and $8 per person.
With some creativity using ingredients and a little planning with your local grocery store sale flyer, you and your platoon can create something special and affordable that will leave the significant others at home feeling a little bit jealous. Don't be intimidated to try new things. There may be some failures along the way (I'm recalling a particular duck experiment that went wrong), but your brothers and sisters at the fire hall are forgiving and will still appreciate your efforts in the end. Have fun with cooking; it will bring much more to your platoon than just full stomachs!
I've included two recipes to help get you started. Enjoy them: they have been three-criteria tested, and they've brought many smiles to my fire hall family.
---
Patrick Mathieu is an 11-year veteran of Waterloo Fire Rescue. He has won several cooking competitions and has helped raise thousands of dollars for charities by auctioning gourmet dinners at the fire hall. Contact him at patrickmathieu78@yahoo.ca

Photo by Patrick Mathieu

Grilled sirloin flatbreads with blue cheese sauce and caramelized onions


serves 10
5 lbs top sirloin steak
10 naan flatbreads or Greek pita flatbreads
5 sweet onions, sliced thinly
2 tbsp butter
2 tbsp olive oil
2 tbsp fresh thyme leaves
500 g Danish blue cheese
1 1/2 cups good quality mayonnaise
2 tbsp whole-grain Dijon mustard
1 tbsp horseradish
1 tbsp freshly squeezed lemon juice
Montreal steak spice to taste
Sea salt and fresh ground pepper to taste
1/4 cup vegetable oil
2 cups arugula
Directions:
Bring steaks to room temperature, brush with vegetable oil and season liberally with Montreal steak spice, fresh ground pepper and sea salt. Heat barbecue to high.
In a large sauté pan over medium heat, melt 2 tbsp butter and olive oil. When butter is melted and sizzling, add the onions and fresh thyme. Toss to make sure all of the onions are coated. Reduce heat to medium/low and cook until well caramelized, about 30 minutes.
While onions are cooking, make blue cheese sauce. In a large bowl, crumble blue cheese. Add mayonnaise, Dijon, horseradish and fresh lemon juice. Mix together and break up blue cheese. Add freshly ground pepper to taste. Cover with plastic wrap and refrigerate.
When the barbecue is hot, put steaks on the grill. Grill 4-5 minutes per side, rotating the steaks a quarter turn halfway through. With a meat thermometer, check temperature before removing steaks; 140 C (275 F) for medium rare. Remove from grill and tent in tin foil for 10 minutes. Slice steak against the grain into thin strips. Toss strips in the drippings from the foil package.
After slicing the steak, brush some vegetable oil on both sides of the flatbreads. Grill over medium heat until lightly charred but not toasted, about 3 minutes per side.
To assemble, spread a generous layer of the blue cheese sauce on the grilled flatbread. Top the flatbread with sirloin slices and caramelized onions, dividing equally among the 10 flatbreads. Finish with a few sprigs of arugula. Enjoy by folding in half or cutting into quarters.
---
Loaded baked potato soup
serves 10
5 large russet baking potatoes, scrubbed, skins on and chopped
1 pound thick-cut bacon
2 sweet onions, chopped
4 celery stalks, chopped
2 large carrots, peeled and chopped
2 tablespoons fresh chopped chives
2 tablespoons fresh chopped parsley
2 bay leaves
10 cups good-quality chicken stock
1/2 cup sour cream
2 cups 2% milk
1 cup sharp cheddar cheese, grated
Sea salt and fresh ground pepper to taste
4 green onions, white and green parts chopped
Directions:
In a large soup pot or Dutch oven over medium heat, add the bacon. Cook until almost crisp, stirring often, about 8 to 10 minutes.
Add onions, celery and carrots. Mix well and cook until the vegetables become soft, about 8 minutes.
Add the potatoes, chives, parsley and bay leaves. Mix well until everything is coated.
Pour in the chicken stock and bring to a boil, then reduce to a simmer. Continue simmering until the potatoes are fork tender, about 20 minutes. (Simmer longer, if possible, as this allows the flavours to marry even more.)
When vegetables are soft, use a hand blender to puree the soup until smooth. If you don't have a hand blender just add the soup to a regular blender in batches.
After you've reached a smooth consistency, stir in the sour cream and milk.
Turn the heat to low and add the cheese in small handfuls, making sure it melts before adding more. Taste the soup and correct any seasonings if necessary with sea salt or fresh ground pepper.
Top soup with fresh-cut green onions and extra cheese. Enjoy!
---
Print this page