Features
Recipe Rescue: Building a better soup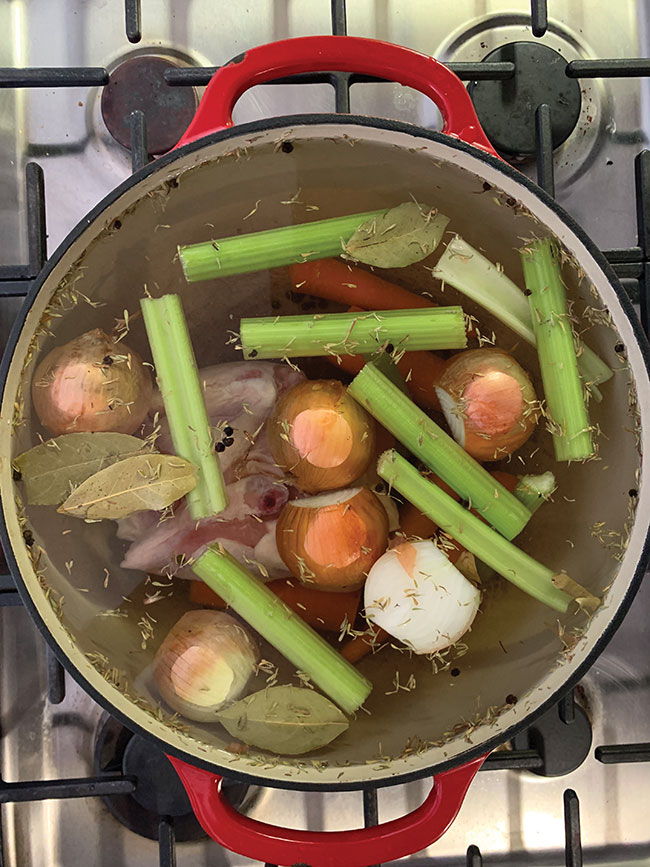 What inspires you in your kitchen? More often than not for me I'm pulled in certain directions by the particular season we are in. Spring and summer lead me down the fresh and light path, probably grilled or smoked and consumed al fresco. Fall and winter takes me towards rich comfort foods, braised, roasted and low and slow. I've become very aware of this personal trend of mine through writing Recipe Rescue (for over 10 years now!) because the magazine comes out quarterly and falls into each season. To keep it genuine and authentic (and hopefully relevant to you all!), I try to write about what I'm cooking at the time, perhaps new tools and techniques I use and some of latest food trends. As I sat to write my article for October, one thing came to mind right away (other than Oktoberfest), and that's soup. Soup is a daily occurrence in my home, my wife's favourite food and an easy, delicious way to satisfy the crew. When you think about it, soup is a true wonder of chemistry. Together, water, onions and time can turn water into broth, bland into savory and thin into thick. But it is a slippery slope and the process is critical to achieving great results. The finest soups are built by layering flavours upon flavours every step of the way. 
Soups are not all alike, but they do follow a similar path to deliciousness. Aromatics and main ingredients go into a pot, a liquid is added and the whole thing is simmered until done. There are three main members of the soup family: broth-based, chunky or puréed. It helps if you picture the soup you want to sit down to, and let that guide you.
Broth soups, like egg drop, consommé or Thai hot and sour, are best made right after you've cooked up a batch of homemade stock. Restraint is an essential ingredient. The best broth soups taste clean and allow the nuanced flavours of a long-simmered stock to stand out. Keep it simple. Use a high proportion of liquid and limit how many, and how much of, other ingredients you add into the pot.
On the other hand, black bean soup, chowder, minestrone or any other chunky soup is defined by transformation. Flavours develop, vegetables soften, liquids reduce and starches thicken. As these soups simmer, their varied ingredients — choose three or four from the list of vegetables, grains, legumes, or bits of meat — and you make a whole that's inexplicably greater, and more delicious, than the sum of its parts.
A puréed soup, such as a bisque, creamy tomato soup, or vichyssoise, is the height of refinement, yet it is probably the easiest to make. Start with a base of onions, then add one or two main ingredients and just enough liquid to cover. Simmer gently until done, then blend, taste and adjust the seasonings. Soon you'll start to see the potential for a smooth, silky soup hidden within every vegetable. 
Now that you've chosen your soup, you'll want to start building its foundation. Choose a cooking fat based on the cuisine that inspired your choice: think butter for a French soup or olive oil for an Italian one. While on that train of thought, keep the same thinking to select an aromatic base of chopped vegetables, whether simply garlic and onions, classic mirepoix (onion, celery, carrot) Italian soffritto (basically a caramelized mirepoix) , or Southeast Asian shallots and ginger. Next building block is to select your seasonings. Restraint is key here as well. Try again to stick with spices from the cuisine you are cooking in and use just three or fewer to keep from muddying flavors. 
For a basic aromatic foundation, heat two tablespoons of butter with two tablespoons of a neutral-tasting oil, like grapeseed or peanut in a soup pot over medium heat. You can also use olive oil or coconut oil if you wish. Add two diced medium onions and a generous pinch of salt. Alternatively, one of my favourite ways to start a pot of soup is with four ounces finely diced bacon or pancetta and couple tablespoons of water over low heat. When the water is gone and the meat is rendered, reduce the oil to two tablespoons and continue as above. Stirring occasionally, cook until the onions are tender and the meat is just starting to brown. Add three cloves thinly sliced garlic and cook for another 20 seconds, just until the garlic gives off a savory aroma. This is your starting blocks! From here you can take your pot of soup in so many directions. For a Mexican base, add oregano, chipotle in adobo and diced tomatos. Feel like Indian, add cumin seed, turmeric, and garam masala.
Once you've built up your soup's foundation with aromatics and seasonings, it's time to add a liquid. If you have water around you can make soup and it's never a bad choice, but stock or broth may be a better one. No single element in a soup wields as much influence on its taste as its liquid. You will want about a cup per serving: a little more for a broth soup, a little less for a hearty one. Avoid canned and boxed stocks. Made with a lower ratio of bones and packed with ingredients that you would never add to a pot of stock yourself, they never taste quite right. Instead, either make and freeze stock or buy good quality fresh or frozen stock from a butcher. It will make huge difference, trust me!  
Stock recipe
4 pounds raw chicken bones
6 quarts water
2 onions, unpeeled, quartered
2 carrots, peeled and halved crosswise
2 celery stalks, halved crosswise
1 teaspoon black peppercorns
2 bay leaves
4 thyme sprigs
5 parsley sprigs (or 10 stems)
1 tablespoon white-wine vinegar
Put everything but the vinegar in a large stockpot. Bring the stock to a boil over high heat, then turn down to a simmer.
Skim off any foam that rises to the surface. Add the vinegar. (It helps draw out nutrients and minerals from the bones into the stock).
Simmer the stock for six to eight hours, covered, keeping an eye on it to make sure it stays at a simmer. Strain the stock through a fine-meshed sieve. Let cool.
Scrape the fat that rises to the top. Refrigerate for up to five days, or freeze for up to three months.
You're almost there! After diligently building layer upon layer of flavour, here is the payoff of adding the ingredients that inspired you to make soup in the first place. Add them to the pot raw, so they can release flavour into the soup. Bring it all to a boil, then simmer. You will know it's done when it's all tender, anywhere from 25 minutes to three hours depending on the ingredients. Add chunks of meat, pasta, grains or bread, beans or whatever vegetables your heart desires. Here is a basic recipe that can serve as a canvas for any kind of chunky soup. Mix and match ingredients to suit your cravings, using an aromatic base of onions and garlic, seasonings, flavourful stock (or water), and whatever main ingredients you choose. With just a bit of time, ordinary ingredients can become an extraordinary fall meal for tonight, and for days to come.
Basic Soup Recipe
4 tablespoons butter, olive oil or neutral-tasting oil
2 medium onions, diced
3 cloves garlic, sliced

 

Kosher salt
6 to 8 cups meat, vegetables or other add-ins

 

About 1 1/2 pounds raw, boneless chicken

 

About 8 cups water or chicken stock, preferably homemade

 
Set a large Dutch oven or stockpot over medium-high heat and add four tablespoons butter or oil. When the butter melts or the oil shimmers, add onions and garlic, and a generous pinch of salt.
Reduce the heat to medium and cook, stirring occasionally until the onions are tender (about 15 minutes).
Place the meat, vegetables and other add-ins in the pot, along with the raw chicken (if using), and add enough liquid to cover. Season with salt. Increase heat to high and bring to a boil, then reduce to a simmer.
Cook until the flavours have come together and the vegetables and greens are tender, about 20 minutes more. If you added raw chicken, remove it from the soup when cooked, allow to cool, shred and return to the soup. Taste and adjust for salt. 
Add more hot liquid if needed to thin the soup to desired consistency. Taste and adjust for salt.
Serve hot, and garnish as desired.
For add-ins, you can use a combination of vegetables diced into 3/4-inch pieces (use one or more of carrots, fennel, celery, leeks, winter squash, potatoes or parsnips); cooked beans, lentils or chickpeas; up to four cups of sliced kale or green cabbage; or up to three cups of cooked, shredded chicken or pork, if not using raw chicken. If desired, replace some of the liquid with bean broth, heavy cream, chopped tomatoes in their juices or full-fat coconut milk.
So here we are at the finish line! You've cooked up a hearty pot of soup, but you're not done just yet. Before you sit down to eat, finish the bowl with a bright garnish. Think of it as an opportunity to both balance the flavours and texture of a soup and make it eye-catching! 
For creaminess and tang, garnish with a dollop of sour cream, yogurt or crème fraîche. Chopped herbs such as parsley, cilantro, chives or dill bring a fresh contrast to long-cooked flavors.
A sprinkle of crushed toasted croutons or toasted sesame or pumpkin seeds will add a welcome crunch to a puréed soup.
Crumbled cheeses, such as feta, ricotta or goat cheese, or any grated hard cheese such as Parmesan, pecorino or Asiago will finish a soup with a welcome bit of salty and tart flavours.

 
There you have it friends, my blueprint for building a better bowl of soup, and just in time for the long cold months ahead. Eat well and stay safe!
---
Patrick Mathieu is an acting captain at Waterloo Fire Rescue in Ontario. He was featured on Food Network's Chopped Canada. You can reach Patrick at stationhousecateringco@yahoo.ca or  @StationHouseCCo.