June 24, 2020
---
By
Patrick Mathieu
Topics
In these strange and unprecedented times of isolation and social distancing, it's easy to see why people turn to their kitchen as a place of comfort. You can see creations from quarantine kitchens for yourself all over social media. The extra time on our hands at home has proven to be a perfect opportunity to learn some new recipes, try your hand at baking, create something new and fun for the kids to cook, or treat your pantry and refrigerator like an episode of Chopped Canada! Throughout my fire fighting career, I've always found great peace and reward in the kitchen, whether in the firehouse or at home. Cooking, especially with my wife and family as well as my fire fighting brothers and sisters, has always brought me great joy. Seeing the smiles and reactions during mealtime often brings me as much pleasure as cooking and eating the food itself. During this pandemic, any opportunity to find something positive needs to be embraced. For me, it's seeing families slowing down life and cooking together, with their kids, stepping out of their cooking comfort zone to create something fun and different or emptying the pantry into something that may never be made quite the same again. This brings a smile to my face and I sincerely hope this is the new normal long after life returns to normal. Here are a few of my quarantine kitchen favorites to try. Now more than ever friends, eat well and stay safe!
Let's Bake Bread
Dabbling in the baking world doesn't get any better or easier than this! The reward versus effort is extremely high in this loaf recipe that requires no kneading at all. The result is a golden crunchy exterior and a super soft centre that looks like you picked it up from your favorite bakery. I like to make the dough and allow it to sit overnight, and then cook it first thing in the morning. Who doesn't want to wake up to the smell of fresh baked bread?
Recipe Mash-Ups
Sometimes you just cannot decide on what comfort food you want to make. Can't decide on nachos or chicken wings? Easy, make my chicken wing nachos! Cheeseburgers or pizza? No worries, try my Big Mac pizza. Recipe mash-ups are a great way to create something new and super fun that will get the kids involved. Some of my most memorable recipes have been created this way. Just have fun with it and remember no combination is out of bounds!
What's in Your Pantry?
When my wife and I returned from Florida during March break we were in a mandatory 14-day isolation. No stepping out of the house for anything and we took this seriously. Luckily, we had a well-stocked pantry, freezer and cold cellar. It became a daily challenge to see what we could find and create. One of my favorites was an everything-but-the-kitchen-sink banana bread. Reaching deep in the back corners of the pantry I would find things like toasted coconut, dried fruit, different kinds of flour and remnants of chocolate chip bags from recipes past. These long-forgotten ingredients needed to be put to use, so I tried them all together in a most versatile carrier — banana bread! What started out as an experiment turned into something I will recreate repeatedly.
Photos: CHICKEN: © Andrey Starostin/ADOBE STOCK, BANANAS: © Misko Kordic/Adobe Stock
---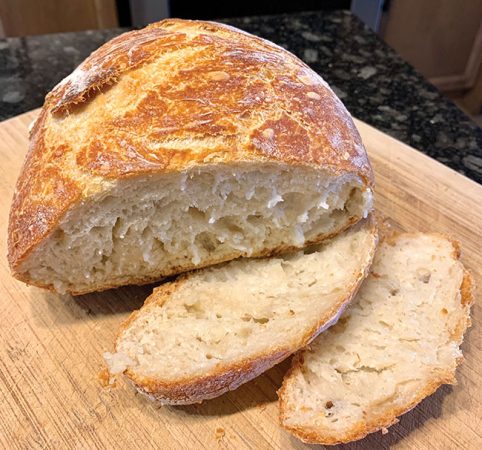 Three Ingredient No Knead Bread
Ingredients:
3 cups all-purpose or bread flour, more for dusting
1/4 teaspoon instant yeast
1 1/4 teaspoons salt
METHOD:
In a large bowl combine flour, yeast and salt. Add 1 5/8 cups warm water and stir until blended. The dough will be shaggy and sticky. Cover bowl with plastic wrap. Let dough rest at least 12 hours but preferably about 18, at warm room temperature overnight.
Pre-heat oven to 450 F. Put a 6- to 8-quart heavy covered pot (stewpot, cast iron, enamel, Pyrex or ceramic) in oven as it heats. I use a cast iron pot.
Lightly flour a work surface and roll dough on to it. Sprinkle it with a little more flour and fold it over on itself once or twice.
Place dough on a piece of parchment paper and place inside the pot in the oven. Cover with a lid and bake 30 minutes, then remove lid and bake another 15 to 30 minutes, until loaf is beautifully browned. Cool on a rack and enjoy!
---
Big Mac Pizza
Ingredients:
1/2 cup ketchup
¼ cup mayonnaise
2 tablespoons yellow mustard
1 lb lean ground beef
Kosher salt and fresh ground pepper
1 pre-baked thin pizza crust
1 cup shredded old cheddar
1 cup shredded mozzarella
½ cup diced dill pickles
½ cup diced sweet onions
1 cup shredded lettuce
Toasted sesame seeds, for garnish
METHOD:
Preheat oven to 425 F. Place a pizza stone in the oven if you have one. In a small bowl mix together ketchup, mayo and mustard to make sauce. Set aside. In a large skillet, sauté ground beef, breaking the meat up with a wooden spoon and continue to cook until meat is no longer pink, about five to seven minutes. Season with salt and pepper. Spread a thin layer of sauce on the pizza crust. Sprinkle half of the cheddar cheese and half of the mozzarella cheese on top of the sauce. Spoon the ground beef mixture onto the pizza crust and top with the remaining cheese. Place on the baking stone, directly on oven rack, or on a baking sheet and bake for 10-12 minutes, or until cheese is melted and crust is crisp around the edges. Top with dill pickles, onion, shredded lettuce and sesame seeds. Drizzle with more sauce and serve. Enjoy!
---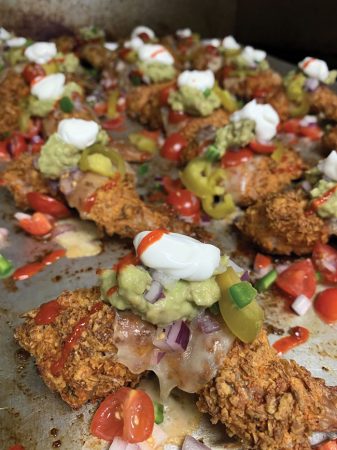 Chicken Wing Nachos
Ingredients:
4 pounds of chicken wings, separated and wing tips discarded
2 eggs beaten with 1 tablespoon of water
1 cup flour
2 cups ground Doritos or tortilla chips
1 teaspoon cumin
2 teaspoons kosher salt
½ teaspoon ground black pepper
½ cup melted butter
1 cup grated pepper jack cheese
For the toppings:
Pickled jalapenos, fresh pico de gallo or diced tomatoes, fresh or store bought guacamole, sour cream
METHOD:
Preheat the oven to 450 F. Set up three bowls for a breading station, the flour in one, the crushed tortilla chips in another and the eggs in the third. Combine the cumin, salt and pepper in a small dish and then use it to season the wings on both sides. Dip each wing in the flour first, then the eggs and then finally the ground tortilla chips. Place onto a baking sheet brushed with melted butter and repeat with the remaining wings. Drizzle the wings with the remaining butter and put them in the oven for 40 minutes until browned and crispy. Remove the wings from the oven and cover each wing with some of the grated cheese, then place back in the oven for another 5 minutes to melt the cheese. Top the wings with the guacamole, salsa and pickled jalapenos and serve. Enjoy!
---
Everything but the Kitchen Sink Banana Bread
Ingredients:
1 3/4 cups all-purpose flour
½ cup almond flour
3/4 cup granulated sugar
3/4 teaspoon baking soda
½ teaspoon kosher salt
1/4 cup old fashioned oats
½ cup dried cranberries
½ cup walnuts
½ cup chocolate chips
½ cup toasted coconut
1 cup mashed ripe bananas
2 eggs, beaten
1/3 cup olive oil
½ cup buttermilk
1 teaspoon vanilla extract
METHOD:
Preheat your oven to 350 F. Line a 9×5-inch loaf pan with parchment paper and set aside. In a large bowl, whisk the dry ingredients together: flour, almond flour, sugar, baking soda and kosher salt. Toss in the additions to the dry mixture: oats, raisins, walnuts, chocolate chips and coconut. In another bowl, stir together the wet ingredients: mashed bananas, eggs, olive oil, buttermilk, vanilla extract. Add the combined wet ingredients to the bowl of dry ingredients. Stir until just combined. Bake for about 55 minutes or until a toothpick inserted in the middle of the banana bread comes out clean. Check for doneness at the 45-minute mark to gauge additional time needed. Cool on a wire rack for a few minutes and enjoy!