Features
Recipe rescue: Super seafood
September 19, 2019
By Patrick Mathieu
September 19, 2019
---
By Patrick Mathieu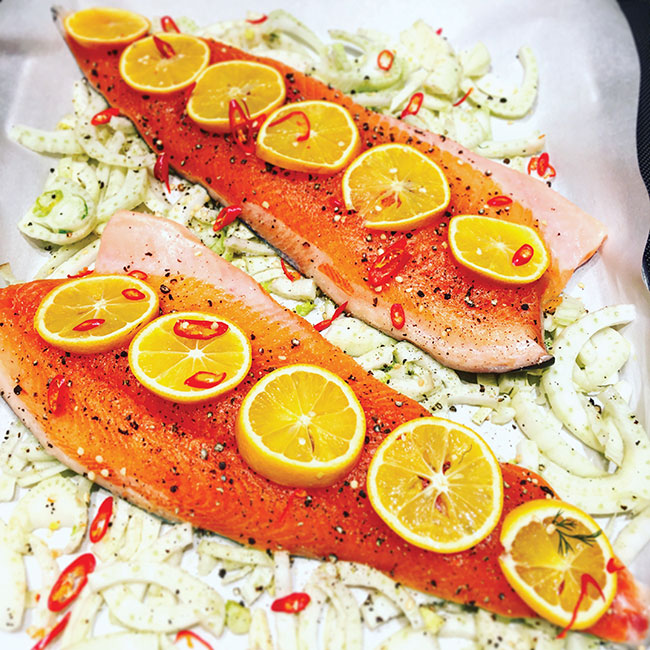 Did you know Canada is home to 243, 042 km of coastline? That's huge. The Great White North touches on the Atlantic, Pacific and Arctic oceans, an integral border of the Great Lakes and has an extremely high number of fresh water inland lakes – 31,752 according to the Atlas of Canada!
Oh yes, that means that as Canadians, not only are we in for some serious seaside fun, but Canada is home to some of the freshest seafood in the world. From coast to coast and in-between, Canada is world-renowned for its lobster, crab, oysters, freshwater fish like trout, perch and pickerel and, of course, our West Coast varieties of salmon.
I've learned over the years through my cooking classes that, as much as people really love it, they can be intimidated by cooking seafood at home. With such an abundance of options, it would be a shame to not make the most of our Canadian treasures of the sea.
Let's dig a little deeper into some of my favourite types of seafood and how you can become a master cooking them at home.
Lobster: The cold waters of the North Atlantic surrounding Prince Edward Island, New Brunswick and Nova Scotia are home to the best lobsters in the world, without a doubt. Attend a lobster fest in July when it is peak season in any of these places and you'll see why. Sweet, briny and rich, cold-water lobster meat is prized all over the world.
Steaming and boiling are two of the most popular methods to cook lobster, but don't forget about the grill and broiler. If you don't want the trouble of cooking the lobster, most good supermarkets will steam the lobster for you in store. This is a great alternative when looking to make a lobster roll, lobster pasta, lobster salad, lobster poutine, lobster eggs benedict or lobster nachos.
Scallops: My father-in-law lives on the west coast of Nova Scotia, which is home to the world's best scallops. Scallops are similar to crab or lobster in taste but they have a firmer texture. The flavour tends to be sweet, buttery and delicate, and when cooked correctly you may just be experiencing the best seafood flavour in the world – not to mention that scallops are more than 80-per-cent protein. One three-ounce serving provides 20 grams of protein and just 95 calories. They're also a good source of both magnesium and potassium. Pan-seared is my method of choice to enjoy the rich sweetness of scallops on their own. Don't forget about your grill and broiler and add them on top of pastas, salads or make a scallop burger.
Oysters: Both the east and west coast claim to have the best tasting oysters. It is all a matter of preference. The waters in which oysters grow imbue them with the characteristics of the location. Atlantic oysters have rough, thick shells with a tinge of green from their seaweed environment, which gives them a salty, briny and vegetative (often described as cucumber) flavour and aroma. Pacific oysters grow in a sandier environment. Their cleaner white to black shells hold oysters that are sweet and creamy with a slightly metallic (or mineral) flavour. Oysters are traditionally named for the bay, town or region from which they come such as Malpeque, Aspy Bay, Raspberry Point and Small Gorge Inlet, so it makes it easy to remember your favourites. It was said that oysters should be eaten only in months with the letter "R" (September through April). The reason that oysters are best during fall and winter is because they are spawning during summer and their texture changes from firm to milky and the flavour from sweet to bitter. But new varieties, such as West Coast Kumamoto oysters that spawn in September and October are best in the summer, making good Canadian oysters available all year long. Enjoy east coast oysters from October to Valentine's Day and west coast oysters from mid-February to October.
Perch and Pickerel: For me, living within a two-hour drive of three Great Lakes, I get super-excited for summertime and perch and pickerel season. Beach towns that dot the coastline of lakes Erie, Huron and Ontario offer up this perfect Canadian fish and chips. Known as the ultimate pan fish, perch and its close friend, pickerel, are meant to be pan-fried and served straight up with chips, but they can easily be thrown on the grill and made into a fish taco. I cannot get enough of this super-mild fresh water fish. Oh, and I'm not forgetting about Gimli, Manitoba, on Lake Winnipeg, which stakes its claim to be the best place in the country to catch pickerel.
Pacific Coast Wild Salmon: Most of Canada's wild salmon comes from the coast off British Columbia and it has earned an international reputation as a premium quality, highly nutritious and delicious natural product. Born in the cold coastal and interior waters of B.C., wild salmon swim to the open Pacific Ocean to mature and return to their native waters to spawn. With only pure surroundings and natural foods throughout the wild salmon's life, they are bound to produce a super-quality fish. Salmon recipes are abundant. Whether it be bake, poach, broil, smoke or grill, there is no shortage of ways to turn the delicate, flaky fish into something amazing. Currently, I am in love with slow roasted salmon with citrus and chilies. Give it a try in the oven or, even better, on a smoker.
Friends, I hope these recipes help in taking the fear out of cooking super-quality seafood at home. As always, send pictures of your creations or contact me with any questions or reviews. Eat well and stay safe.
---
Perfectly Steamed Lobster
Use a pot large enough to comfortably hold the lobsters and fill with water so it comes up sides about two inches. Feel free to use a steaming rack to place the lobsters on or just add directly to the pot.
Add 2 tablespoons of salt for each quart of water. If you have sea salt, even better.
Bring water to a rolling boil over high heat. Place lobsters in the pot (head first), cover tightly, return to a boil as quickly as possible and start counting the time.
Steam a lobster for seven minutes per pound, for the first pound. Add three minutes per pound for each additional pound thereafter. See chart below for approximate cooking times. Regulate the heat if the froth starts to bubble over.
Carefully remove lobsters from the pot with tongs. Be careful, they are very hot. Set in a large bowl for five minutes to cool before cracking. Served with drawn butter or enjoy in your favorite recipe.
Steaming Lobster Times
1 to 1 1/4 lbs – 7 to 9 minutes
1 to 1/2 lb – 9 to 11 minutes
2 lbs – 11 to 12 minutes
3 lbs – 12 to 14 minutes
5 lbs – 22 to 24 minutes
---
Grilled Oysters with Chorizo Butter
INGREDIENTS
4 ounces fresh Mexican chorizo, casings removed
1 1/2 sticks unsalted butter, cut into 1/2-inch cubes
2 tablespoons fresh lime juice
Kosher salt and fresh ground pepper
18 Canadian oysters, scrubbed
Cilantro leaves and finely grated lime zest, for garnish
In a skillet cook the chorizo over moderate heat, breaking it up with a wooden spoon as you go until browned and starting to become crisp, about eight minutes. Scrape into a bowl and let cool.
Add 1 tablespoon of water to the skillet and simmer over low heat. Add the butter to the skillet a few cubes at a time, whisking constantly until melted before adding more. Stir in the chorizo and lime juice and season with salt and pepper. Keep warm over very low heat.
Light a grill. Place the oysters on the grill, flat side up. Grill over high heat until the shells open slightly. Carefully transfer to a platter and, using kitchen gloves or a mitt, remove the top shell. Spoon the chorizo butter onto the oysters and garnish with a cilantro leaf and lime zest. Serve right away. Bon appetit.
---
Patrick Mathieu is an acting captain at Waterloo Fire Rescue in Ontario and author of Firehouse Chef: Favourite Recipes from Canada's Firefighters. Contact Patrick at stationhousecateringco@yahoo.ca.