Canadian Firefighter inaugural photo contest: Finalists
By Brittani Schroeder
Features
Canada wildfire season
canadian firefighter
editors pick
firefighter training
firefighters
First Responders
training
wildfires
Sponsored by
Waterax
We asked, and you delivered – a crop of photos showing different aspects of the Canadian fire service.
From April 1 to July 31, Canadian Firefighter partnered with WATERAX for the inaugural cover photo contest. During that time, we received over 75 photos, with submissions received from eight of Canada's 10 provinces, and one territory.
The winner of the contest is Alex Fortino from Ontario, who is a 26-year volunteer firefighter with the Township of King Fire and Emergency Services. He has a passion for the fire service and showcasing the side of it that people don't always get to see, through his photography. His photo features a Vaughan Fire and Rescue Service member at a structure fire.
With so many photos to choose from, from all across the country, this year's group of images was very difficult to narrow down to a list of finalists and a single winner. As you can see from the pictures included in these pages, there is great work being done by fire departments around Canada.
Thank you to WATERAX and to everyone who submitted a photo this year. Remember to take out your camera and prepare for the 2024 contest!
---
WINNER
Photographer: Alex Fortino, FortinosProductions
Location: Ontario
Vaughan Fire and Rescue Service member at a structure fire.
---
Honourable mentions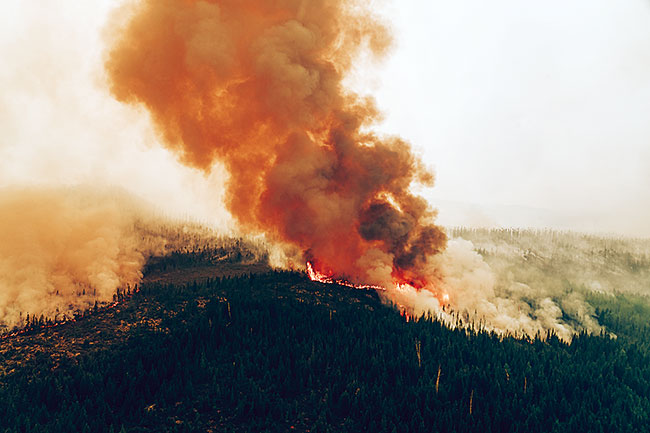 Photographer: Audrey Marcoux, SOPFEU 
Location: Quebec
This picture was taken June 4 from a helicopter over fire #334, located north-west of Chibougamau and West of Mistissini. Fire 334 was named Baie-Pénicouane and it started June 1, following a particularly dry May and then a lightning front that swept across the province. In the space of 24 hours, 3,024 lightning strikes struck Quebec and surrounding areas. As a result, 139 new fires occurred in a single day, 95 per cent of them caused by lightning.
---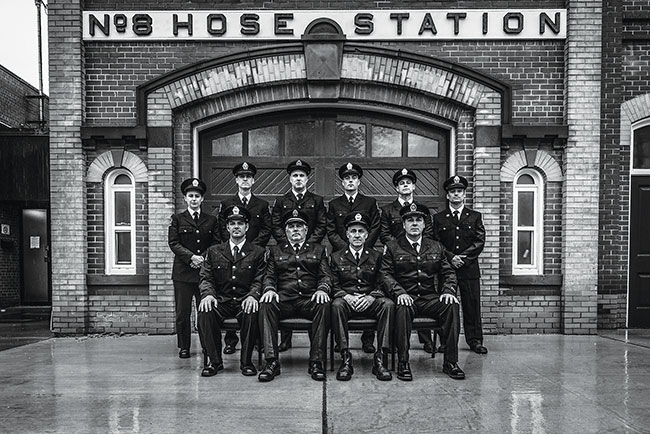 Fire department: Toronto Fire Service
Photographer: Andrew Defazio
Location: Ontario 
Andrew Defazio with his crew in front of Firehall 315 in Toronto. 
---
Fire department: Windsor Fire Department
Photographer: Garrett Milne
Location: Nova Scotia
Milne was on a crew working the Tantallon fires in Nova Scotia earlier this year, and he snapped this photo of a fellow firefighter (Jonathan Swinamer) on the crew while doing some overhaul. 
---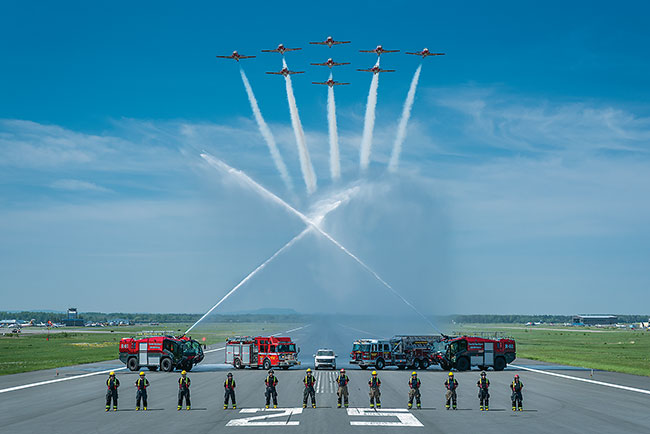 Fire department: Thunder Bay International Airport Fire Service and Thunder Bay Fire Rescue
Photographer: James R. Brown
Location: Ontario
Thunder Bay Airport Firefighters and Thunder Bay city firefighters posing with their respective apparatus while the snowbirds flyover on June 3, 2023. James Brown is a suppression firefighter and PIO for Shuniah Fire & Emergency Services.
---
Fire department: Mississauga Fire and Emergency Services
Photographer: Stephen Uhraney
Location: Ontario
As a documentary photographer doing a story on Station 104 in Port Credit, Mississauga, Uhraney did several 24-hour shifts with the firefighters to document what it is like to be in the fire service. He wanted to show the residents of this area who is protecting them. This was a three-alarm call to a house fire in Lorne Park July 27, at 7 a.m., and there were at least 100 firefighters there. This firefighter—Bret Butler, Ariel 103, Station 103—was exiting the house, which was basically covered by trees and shrubbery.
---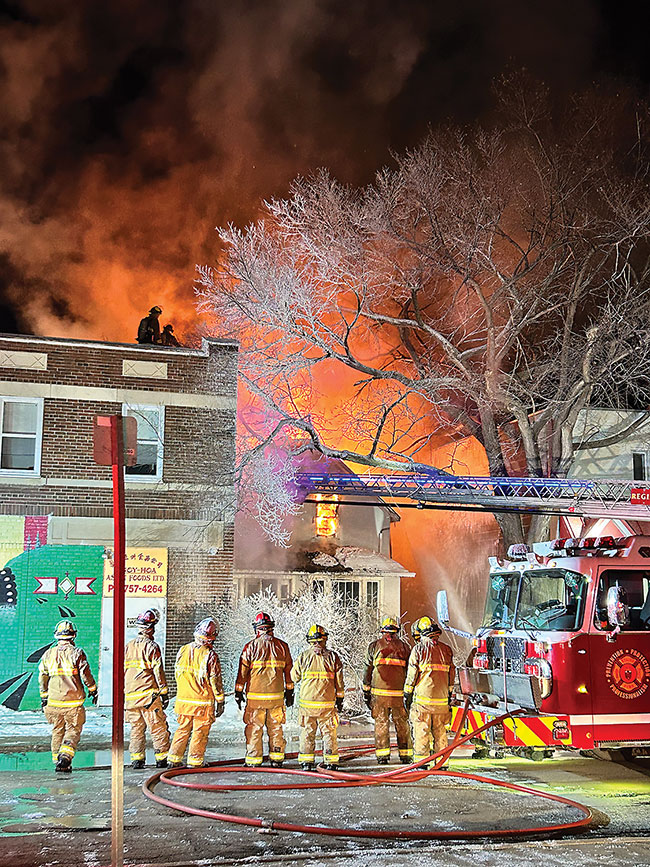 Fire department: Regina Fire & Protective Services
Photographer: Jay Yaciw
Location: Saskatchewan
April 2023. A hoarder house caught on fire and the team had to go on the defensive. It was very unsafe inside. They had members on the roof of the adjacent building working to put it out, and it was a very long night.
---
Fire department: Zorra Fire & Rescue  
Photographer: Katie Gordon
Location: Ontario
Camp Molly is designed to expose young women to the many different careers and skillsets in the fire service (dispatch, medical, investigations, suppression, auto ex, forcible entry, rope rescue, EVT, PubEd etc.) and works to challenge, empower and ultimately support these young ladies in changing the way they see themselves. It is a four-day camp staffed entirely by volunteers and fire service professionals from across the province. Over the course of the four days, we see 35 young women go from shy and unsure of themselves to confident and contributing team members working together.
---
Fire department: Toronto Fire Service
Photographer: Robert Taylor
Location: Ontario
Recruits from Toronto Fire Service's largest recruit class ever—103 firefighters—training on the dumpster prop with propane as the fuel.
---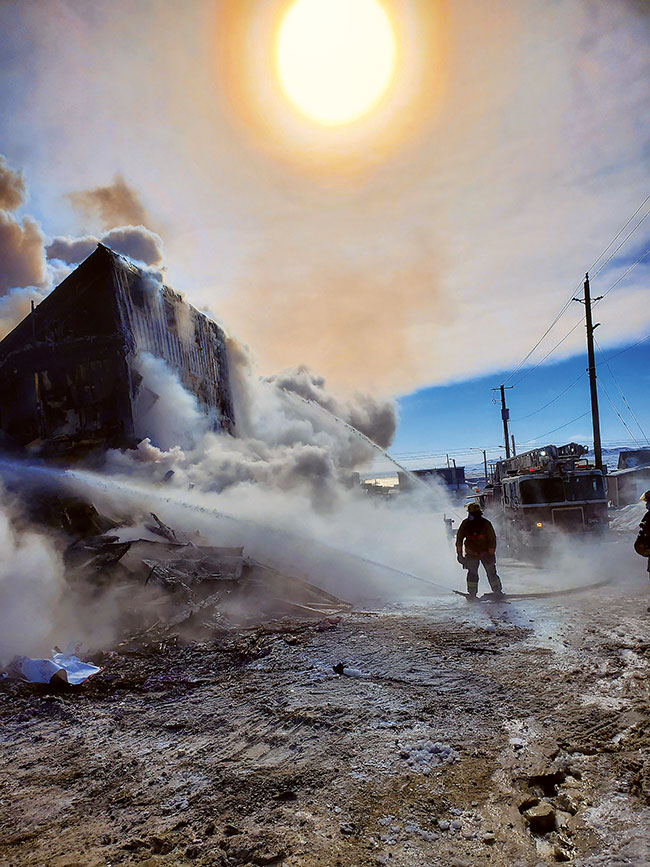 Fire department: City of Iqaluit Emergency Services
Photographer: Phillip Blakey
Location: Nunavut
A -30ºC day in Iqaluit Nunavut. This was an office building under construction, and it burnt to the ground. 
---
Photographer: Genevieve Poirier, SOPFEU, Mont-Tremblant Base
Location: Quebec
Prescribe burn on the #334 – West of Mistissini, Que. 
---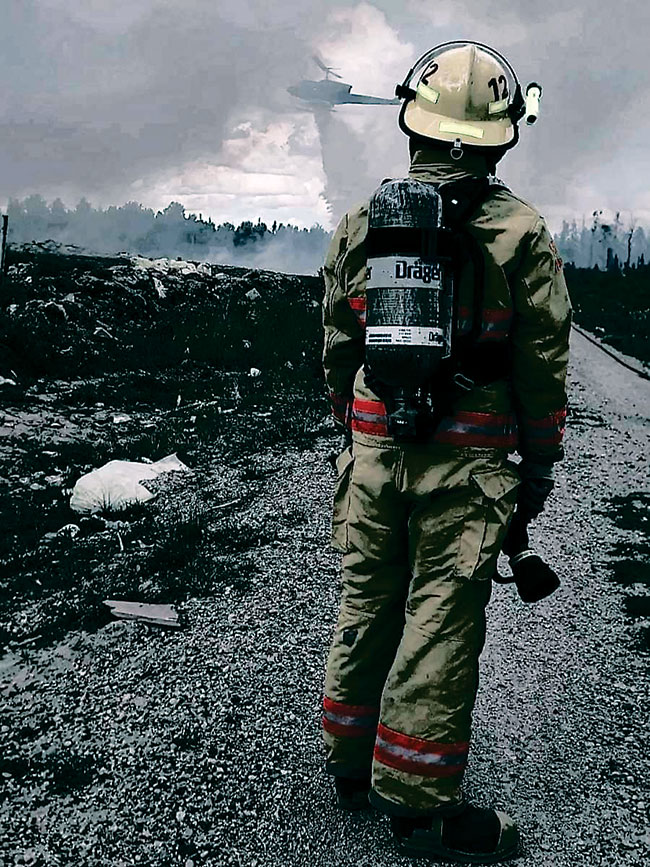 Fire department: Hearst Fire Department
Photographer: Nicholas Brunet
Location: Ontario 
A big land fire where we needed Ministry of Natural Resources' assistance. Firefighter in the photo is Mathieu Ouellette. 
---
Fire department: Penticton Fire and Rescue Thunder Bay Fire Rescue
Photographer: Mike Biden
Location: British Columbia
This image was taken while training new recruits in our training centre, called the "Burn Can". Mike Biden's Nikon camera partially melted from the extreme heat. 
---
Fire department: South Glengarry Fire Service
Photographer: James Walker
Location: Ontario
This is the tanker 4 from South Glengarry Fire Service. James Walker took the photo June 14, 2023, during a mutual aid call for tanker support with one of his neighbouring departments during a structure fire. The structure fire was a small bungalow with an attached garage. The fire started in the garage then spread into the attic of the house before firefighters gained control. This photo was taken while delivering water during tanker shuttle operations. The wind shifted for a few moments creating this perfect opportunity to capture this photo.
---
Photographer: Tyler Pelke, Deputy Chief of Red Deer Emergency Services
Location: Alberta
The fire pictured was part of the Rocky River Fire in proximity to Fort Chip fire, Alberta, 2023. Pelke was deployed as part of a Canada Task Force II assigned to Alberta wildfire.
---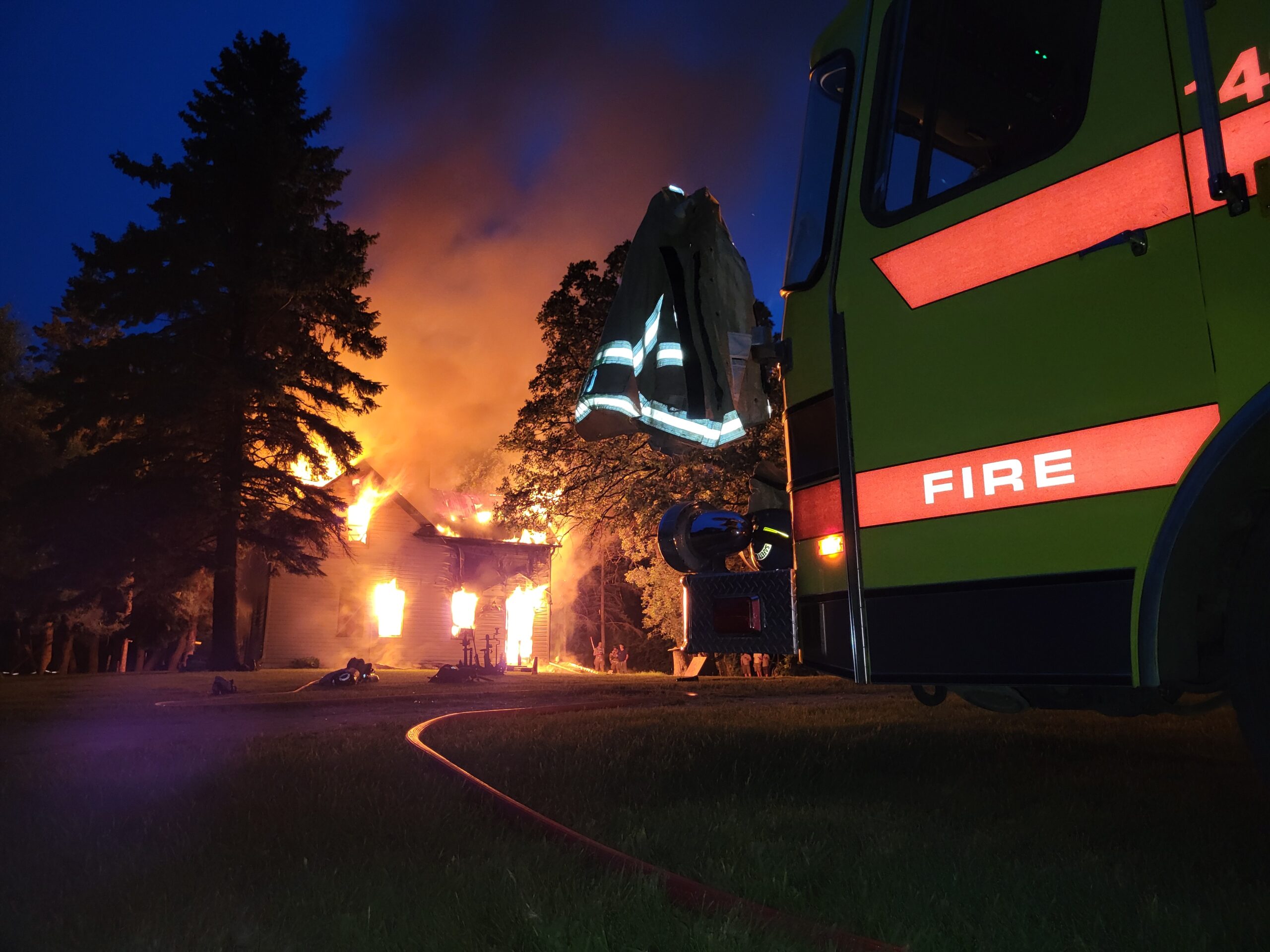 Fire department: Morden Fire and Rescue
Photographer: Darrel Klassen
Location: Manitoba
Klassen's team was training in an old farmyard close to the city of Morden. After a few search and rescue scenarios in the house, they had the opportunity to "let it go". These types of training opportunities don't become available very often, so they are very grateful to their community for supporting them in this way.
---
Fire department: St. Clements Fire Station
Photographer: Brydon Clark
Location: Ontario
Volunteer firefighters training for car fires. You can see how the water is pushing the fire out of the way. It was early November, and while Clark is sure the firefighters were too warm next to the fires, he hadn't dressed properly for the misty rain they were getting. His fingers were frozen in the shape of the camera and pressing the shutter became a struggle. Every moment was worth it, and only a few photos came out blurry from his shaking hands.
---
The judges
Gabriella Gerbasi is the Director of Sales and Marketing at WATERAX. With over nine years of experience in marketing at WATERAX, Gabriella has led the company through a complete rebrand and the introduction of the MARK-3® Watson Edition.
Jeff Wizniak has been a photographer for over 15 years. He has been featured in Canadian Geographic many times, as well as newspapers, television and weather network features. He enjoys capturing special moments in nature.
Brittani Schroeder is the editor of Canadian Firefighter.

Laura Aiken is the Editorial Director of the Emergency Services Group at Annex Business Media.
---
Print this page